Digital Signage
Digital Signage is a dynamically developing advertising tool for broadcasting multimedia messages. His interactive character allows the user to adjust the content to the target group, effectively engaging the audience's attention. The solution works perfectly in means of transport, banks, hotels, trade networks, public institutions, at the airports or petrol stations.
The content of messages includes both static pictures and videos in HD resolutions or flash animations. They can include audio messages to reinforce the effect. Therefore length of the presented advertising campaign, scope of information and the way of displaying the content is up to the system administrator only. Additionally, the administrator can change the content of messages for screens located in different places in the country, reaching the right target with the promotion.
Digital Signage systems are intelligent solutions for an effective and creative company promotion, which, apart from their advertising function, can be used for providing information to employees.
Digital Signage systems comprise several to several hundred remotely managed screens on which the displayed information can be changed or modified practically on the spot.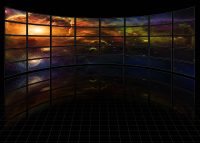 We offer the following solutions:
Find out more: