Outsourcing of IT professionals
To meet our customers' expectations associated with IT infrastructure management, we have created a team of professionals so that we can provide outsourcing services to companies looking to optimize IT costs, and at the same time to have high-class IT experts.
Outsourcing allows you to transfer responsibilities for IT infrastructure maintenance and development to highly qualified engineers, who not only watch over its proper operation but also quickly and efficiently respond to problems that emerge, and, through system and network monitoring, considerably contribute to the reduction of risk associated with failure.
In addition, our professionals regularly participate in training courses, during which they improve their skills and gain knowledge on the latest IT solutions and technologies.
Benefits of the use of outsourcing services:
stable and professional IT support,
high level of security in the organization,
saving time and costs that would be involved, while creating a dedicated position in organizational structures of the company,
efficient and effective work environment,
access to expertise in various fields of IT, without the need for staff training.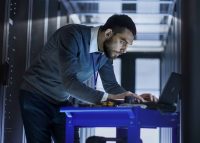 We offer:
permanent contracts/ hour packages
emergency assistance
directly at the customer's place or remotely
Scope of services provided:
Administration and monitoring of customer's IT resources, including:
server infrastructure, network infrastructure, devices for data backup, data bases and applications, network security systems, communication infrastructure
Current IT office support
Hardware and software installation and configuration
Hardware maintenance and upgrading
Diagnostics/ faults rectification
Consulting and technical support
Find out more: