Network infrastructure management
Safe and reliable network infrastructure is a key element for the functioning of all companies. In constructing network cabling and WiFi installations in a variety of environments, from small- and medium-sized companies to banking, educational and medical institutions to power stations, we perfectly know which solutions fits the company's organizational structure best and is most cost-effective at the same time.
In designing the network infrastructure, we adapt it to the challenges of the modern market, including the development of services within cloud systems.
We use technologies of leading manufacturers, such as: Cisco, Hewlett-Packard Enterprise and Broadcom.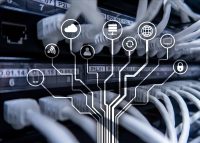 Our offer includes:
Executing projects of small and medium local and distributed networks (VPN), considering information security and redundancy

Designing modernizations of network in terms of infrastructure, security and availability
Installation and configuration of network infrastructure, based on a design

Integration of the existing network infrastructure with existing and/ or new systems

Migration/ modernization/ integration of physical and virtual network infrastructure
Consulting, audit and technical support
Verification of networks and systems for compliance with the design

Network and system diagnostics in order to determine the level of performance, availability, security and proper configuration of networks and systems

Consulting for the purpose of identification of needs, as well as selection of technologies and equipment for future projects

Assistance in the development of a concept for optimization of the existing configuration of networks and systems

Identification and handling (including remote handling) of problems in customer networks

Solution testing (proof-of-concept)

WiFi propagation testing
Management and monitoring
Supervision over proper operation of networks and systems

System monitoring and updating
Network hardware configuration, including:
Sophos

Cisco

Hewlett-Packard Enterprise

PaloAlto

Netgear

Fortigate
Find out more: