Hardware infrastructure – design and implementation
We design modern and professional IT solutions, based on the hardware and software of reputable manufacturers.
In developing a dedicated hardware infrastructure, we consider:
current needs of the company and benefits related to the implementation of a new solution,
scale and scope of the company functioning,
existing resources,
information obtained from the customer, including: objectives to achieve, defined problem areas and business growth prognostics.
The project is prepared by out experts – experienced business analysts and administrators. Their flexible approach takes into account the possibility of the customer redefining objectives, as well as integration of current and introduction of new technological solutions.
After implementation of a solution, our professionals are available to customers, offering consulting services and technical support.
Project implementation is preceded by presentation of a detailed task schedule to the customer, which facilitates implementation process and allows to maintain stable operation of the company.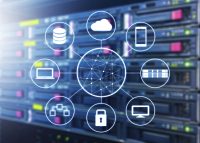 System solutions:
IT environment virtualization
Microsoft Azure services

Solutions based on Microsoft Hyper-V and VMware

Solutions in a Standalone and scalable (Cluster) versions

Hybrid solutions using Microsoft Azure services

Virtual machine replication (Hyper-V) – local and to Azure

Implementation of Microsoft System Center Virtual Machine Manager (VMM) solutions

VMM integration with the Azure Arc service

Consolidation of heterogeneous virtualization solutions (Hyper-V, VMware, Citrix XEN) into a single, unified SCVMM console

Client system development and administration (Outsourcing)
Communication and collaboration: Exchange Server i Exchange Online
Implementation of company/corporate e-mail based on Exchange Server and Exchange Online

Standalone and high-availability (HA) solutions

Hardware/software load balancing, scaling

AV and antispam protection

DNS record configuration for SPF, DKIM, DMARCDNS record configuration for SPF, DKIM, DMARC

DMARC implementation

E-mail backup and archiving

Solutions for the purposes of legal requirements

DLP – Data Loss Prevention – Microsoft solutions

Hybrid e-mail solutions

Migration of local Exchange Server e-mail systems to Exchange Online

E-mail migration from hosting services (e.g., home.pl, nazwa.pl, etc.) to Exchange Online

Migration of e-mail Exchange Online (Cloud Exit) systems to a local Exchange Server environment

Client system development and administration (Outsourcing)
Communication and collaboration: Microsoft Teams, Cisco Webex, Zoom
Internal and external communication

Integration with mobile devices (smartphone, tablet)

Videoconferencing

Call cost reduction in distributed branches

Voting and chat

E-learning

Integration with VoIP

Client system development and administration (Outsourcing)
Communication and collaboration: SharePoint i SharePoint Online
Implementation of company/corporate Intranet based on SharePoint Server and SharePoint Online

Document libraries (OneDrive for Business)

User data cloud synchronization (OneDrive)

Migration of file servers to SharePoint Online

SharePoint Server – Standalone and farm solutions

SSL Offloading

Load Balancing

Secure sharing of local SharePoint resources on the Internet: Terminal solutions, Azure AD Application Proxy, WAF, UTM, VPN, etc.

Client system development and administration (Outsourcing)
Terminal solutions (remote work)
Implementation of Remote Desktop Services (application sharing <RemoteApp>, desktop sharing)

Terminal service farms and Standalone solutions

Local (on-premise) and Microsoft Azure cloud-based solutions

Secure sharing of terminal services on the Internet (Remote Desktop Gateway, Azure AD Application Proxy, Azure Bastion, Just-in-time access (JIT), WAF, UTM, VPN (S2S), FIDO)

Azure Virtual Desktop

Jump servers (Jumphost)

VDI – Virtual Desktop Infrastructure

App-V – application virtualization

Client system development and administration (Outsourcing)
IT infrastructure management
Microsoft Endpoint Manager MEM (formerly Intune)

Azure Arc – local environment and Microsoft Azure cloud-based management

Azure Automation

Microsoft Managed Desktop

Windows Autopatch

Family of Microsoft Core Infrastructure (System Center) solutions

Microsoft Defender

Migration of Microsoft systems and services: Windows Server, Exchange Server, SharePoint Server, Active Directory and others

Client systems: Microsoft Windows (business only, e.g., Pro, Enterprise, Embedded) Microsoft Surface, MacOS, iPhone, iPad, Android Enterprise, Samsung KNOX

Developing management solutions and configurations for dedicated devices (e.g., Digital Signage, Kiosks) employing the Microsoft Endpoint Manager MEM (Intune) technology for Windows, Android, iPad and iPhone platforms.

Microsoft 365 and Microsoft Azure – integration with Active Directory, hybrid environments

Backup systems: Veeam – backup and recovery, Barracuda – backup and recovery, System Center Data Protection Manager, Azure Backup – backup of data processed in Azure, Azure Recovery Services (Backup, Site Recovery) – backup and replication of virtual machines to Azure
Other installations
Design and implementation of ICT networks
Videoconference systems
Logitech, Cisco Webex, Microsoft Teams Rooms, Poly, Yealink, Crestron, Jabra
Multimedia systems, projectors and screens
Room reservation systems
Eveo, Evoko, Crestron, Sony
Find out more: