System of meeting room reservations
The system of meeting room reservations is a modern solution which facilitates managing the reservations of meeting rooms. Is dedicated to companies, offices, bureaus, hotels and conference centers, etc. Its biggest advantage is that it enables quick and smooth reservation both by means of a touch screen, placed directly next to the meeting room, and a computer, a tablet or a smartphone. In addition every authorized user may check by themselves the current occupancy rate of meeting rooms or reservations made for the future. Without the need to ask the secretary's office or administration department for help.
The systems of meeting room reservations are equipped in various functionalities which influence the quality of remote management. From determining the size of meeting hall needed, date and number of guests to the possibility of providing catering services.
The main functionalities of the system of meeting room reservations are the following (depending on the producer):
Self-explanatory meeting hall reservation by means of computers and mobile devices or touch screens, placed next to the meeting hall, which offer direct reservation
Automatic synchronization of reservations made by means of both computers or mobile devices and touch screens, which offer direct reservations
The possibility to grant user permissions (e.g. making reservations or only accepting reservations)
The insight into occupancy rate in form of a calendar
Displaying meeting topics and the time left till the end of the meeting
The possibility to order catering services, file a request for equipment and report about equipment defects
Automatic notifications
Automatic removal of outdated events
Changing the statuses of reported reservations (pending, accepted, rejected)
Personalized interface (animated graphic templates with the company's logo)
Statistics and reports
Integration with popular office suites
The lack of requirement to install additional applications.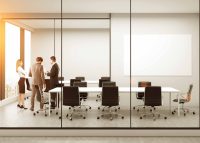 We offer the following solutions:
Find out more: